Della Heiman: Shifting from former Wynwood Yard to a new Doral Yard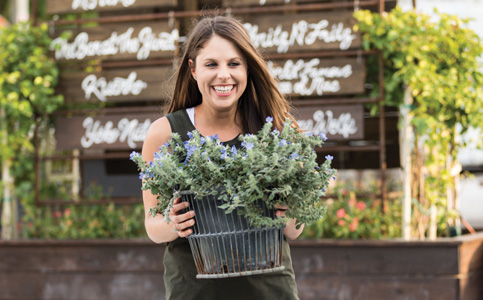 Fresh out of Harvard Business School in 2014, Della Heiman was whittling down her list of where to launch her healthy, plant-based culinary concept, Della Bowls.
She wanted to start in a city where demand and awareness of such an offering was high but supply was limited. It ultimately came down to two cities, Chicago and Miami.
Weather was the pivotal factor at first – even by late spring, Chicago was freezing – but six years later, she said, what really cemented her decision was how receptive, supportive and collaborative Miami's entrepreneurial community was.
"I fell in love with Miami and the incredible people here," she said. "The community opened its arms to help welcome a new, very green entrepreneur find my path and support me."
But like many food startups today, the traditional business models that relied on brick-and-mortar locations proved prohibitive amid Miami's rising real estate pricing. So she adapted, tapping into the vast entrepreneurial community that had been so helpful when she first arrived.
The result was the Wynwood Yard, Miami's first culinary incubation space, where between November 2015 and May 2019 more than 200 entrepreneurs – including 35 long-term residents – spent time testing and perfecting their concepts.
"We tried to show that entrepreneurship is really risky, and it's much more palatable and safe for them when they can do it in a space together, take on less financial risk trying out their ideas, get more support from the community and tap into and leverage a larger marketing apparatus," she said. "Many were successful and went on to scale at new locations."
In addition to operating a location at the Wynwood Yard, she opened several "cloud kitchens" – locations designed solely for pick-up and delivery – throughout Miami.
The Wynwood Yard was always a temporary solution, she said, and in anticipation of its closure last year she and business partner Joe Furst – the former executive director of Goldman Properties who co-founded the Wynwood Business Improvement District and now runs Place Projects – began to look for a new, permanent home.
That will become the Doral Yard, a 20,000-square-foot space in Downtown Doral whose first phase is set to open this year and will build on what made the Wynwood Yard special, expanding its food, entertainment and cultural offerings.
"The Wynwood Yard was very much a build-it-as-you-go process – iterative and lacking a very thoughtful design process from the beginning, because it was it was so scrappy," she said. "In the Doral Yard, it's the opposite approach. Now we know how our business works and what elements are successful and work for us. We've made sure those elements are done to the best ability we can."
Before moving to Miami, she worked domestically and abroad in political communications, venture capital and for Standard Textile, her family's institutional textile company, which manufactures health and hospitality products for 60 markets worldwide.
She also co-founded InsideIL, a nonprofit designed to help Israeli startup companies match with interns from top business schools across the globe, while finishing her MBA.
Ms. Heiman spoke by phone with reporter Jesse Scheckner.