Doral Office Space for Lease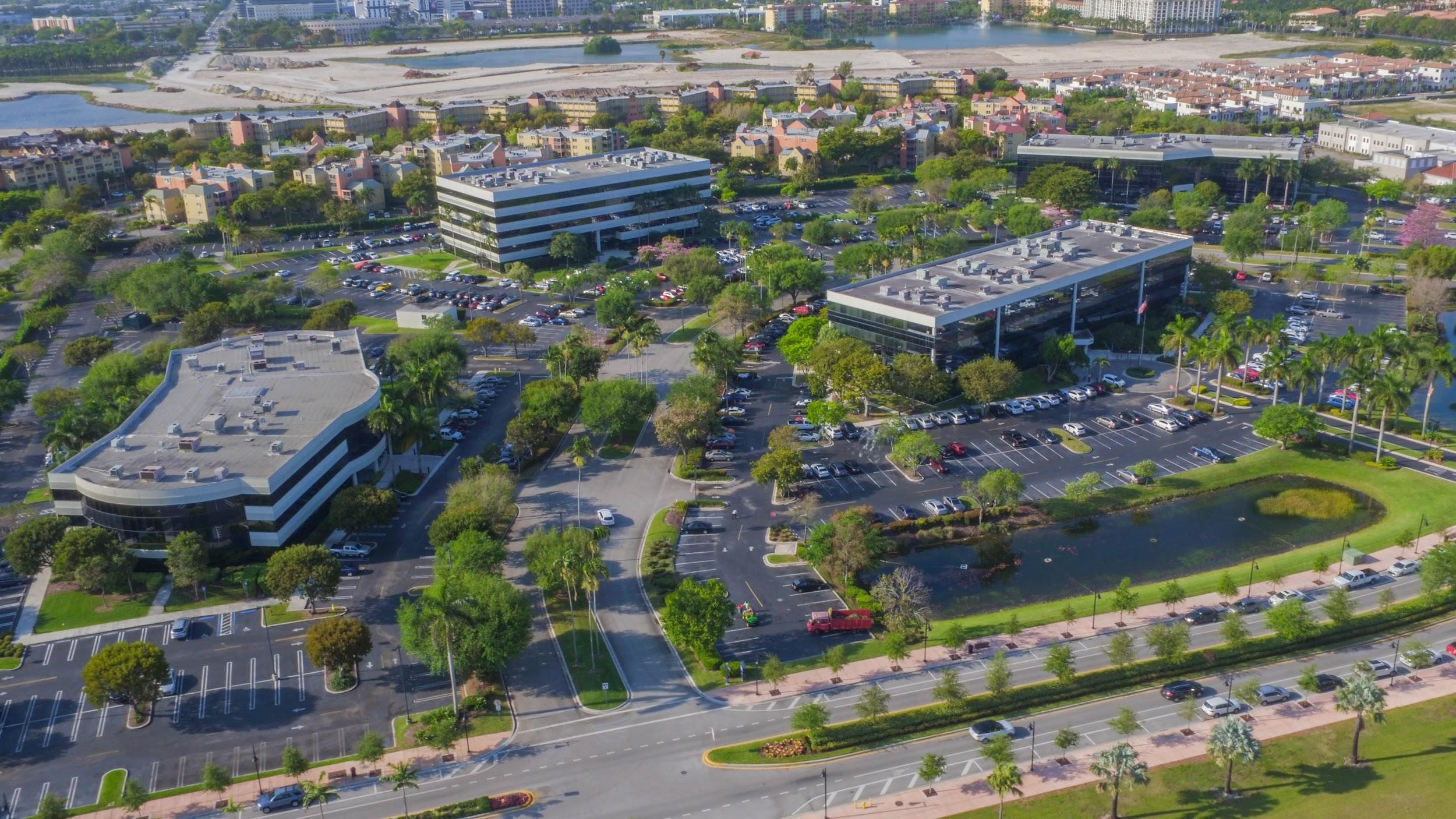 Looking to lease office space in Doral or Miami? Discover a wide range of office spaces in Downtown Doral, Miami's premier town center. Downtown Doral is a vibrant community of culture and commerce combining homes, Class "A" offices, A-rated tuition-free schools, local restaurants, and shops that offer a new quality of life. Working in Downtown Doral allows businesses to take advantage of this live-work-learn-play community while easily connecting to the rest of South Florida.
Class "A" Buildings & Commercial Office Spaces for Lease
The offices at Downtown Doral feature five Class "A" office buildings offering distinctive architecture, an environmentally friendly design, elegant finishes, multiple amenities, ample parking, lush landscaping, and an award-winning property management team. 
8333

NW 53rd St. Doral, FL
8333 is an elegant brick red and cream Class "A" LEED Gold Certified office building. The building is situated on beautifully landscaped grounds and on a prominent corner plot in Downtown Doral. With covered parking, concierge desks, and state-of-the-art video conferencing facilities, you've got all your workday needs covered. 
Size: 150,000 square foot
Email: [email protected]
Phone Number: 305-668-0620
8200

NW 52nd Ter. Doral, FL
The 8200 building is a Class "A" LEED Silver Energy Star Rated building that stands in the hub of Doral's business community. The building provides an opportunity for business owners to thrive in our office spaces for lease in Doral with upscale design, flexible terms, furnished offices, and more. 
Size: 74,000 square feet
Email: [email protected]
Phone Number: 305-668-0620
8350

NW 52nd Ter. Doral, FL
8350 is a class "A" office building that offers modern, flexible coworking workspaces and open floor plans with ample office options. National tenants that make this office building home include John Deere, Allstate and local tenants include the Florida Department of Health.
Size: 93,000
Email: [email protected]
Phone Number: 305-668-0620
8240

NW 52nd Ter. Doral, FL
8240 is a Class "A" building that features beautifully landscaped grounds and is within minutes of world-class retail, dining, and entertainment amenities. The building also features private offices, a large training room, open areas and large conference rooms.
Size: 113,000 square feet 
Email: [email protected]
Phone Number: 305-668-0620
Conveniently Located
Downtown Doral is centrally located in Miami-Dade County with convenient access to Miami International Airport and major highways including the Palmetto 826 Expressway, Turnpike and Dolphin 836 Expressway. 
Walkability
Downtown Doral is a totally walkable, connected and artfully designed community. Within walking distance are shops and restaurants, Publix Supermarket, Doral Government Center, Downtown Doral Charter Elementary and Upper School, and Downtown Doral Park. 
Amenities
Multiple amenities are on-site, serving to boost comfort and productivity. Amenities include a fitness center, various conference, board, and media rooms, a café and deli, lactation rooms, free employee and visitor parking, electric vehicle charging stations, and an eco-friendly car wash.
Commuting Options
Multiple commuting options are available from the campus, including superior access to both Palmetto and Dolphin Expressways, MetroBus stops for Routes 36, 87, and 132, free service with Doral Trolley Route 2, and complimentary FreeBee ride-hailing service for up to 6 passengers. We are in proximity to major roadways like the SR 826 and the Florida Turnpike.
Commuter Rail
Hialeah Market Commuter Rail (14 min drive)

Tri-Rail and Metrorail Transfer Station Commuter Rail (15 min drive)
Airport
Miami International Airport (13 min drive)

Fort Lauderdale-Hollywood International Airport (42 min drive)
Nearby Restaurants and Eateries
Contact us today to learn more about our office spaces in Downtown Doral.