Doral Yard Is Set to Reveal "The Backyard," an Outdoor Expansion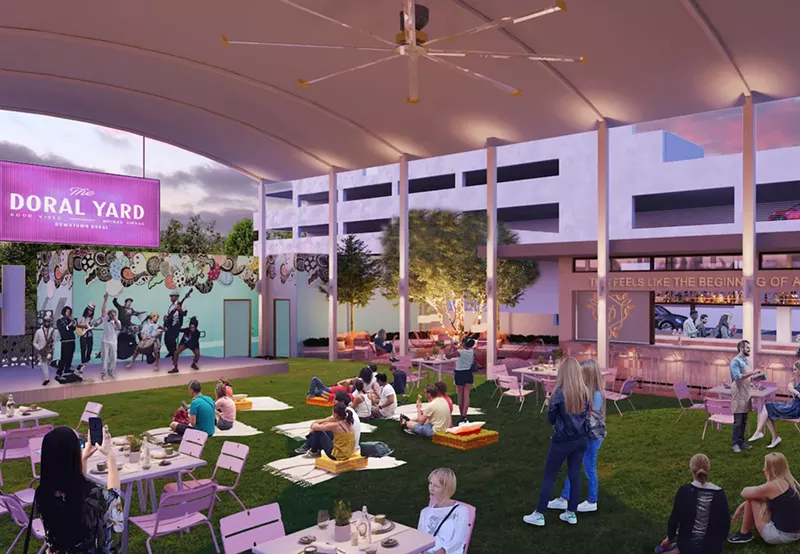 Doral Yard, the outdoor community gathering concept created by Della Heiman of Yard Hospitality and Joseph Furst, founder of Place Projects, is expanding this summer.
When it fully launches later this fall, the Doral Yard will encompass a new, 15,000-square-foot space in addition to the Yard's existing 6,000-square-foot indoor food hall and event space, the Hub, which opened in October 2020. The existing space contains a full bar and three permanent culinary vendors: Della Bowls, Un Pollo, and Yip.
Beginning today, the Yard will pause its live music, fitness classes, table reservations, and some outdoor seating in preparation for the move to the Backyard, the venue's new, dedicated outdoor space, which will offer casual seating, a large covered stage for live music, an organic garden, and a full-service restaurant.
"The Backyard was always part of the Doral Yard's design, and we were always planning to do a phased opening," Heiman explains. "Because of COVID, construction to complete the Backyard was delayed. The Backyard will align more with what people remember from the Wynwood Yard's outdoor space."
That construction is now underway behind the Hub, located off downtown Doral's Paseo Boulevard. In a few weeks, the live-music stage, a large outdoor bar, outdoor seating, and a permanent location for Santo Dulce Churros will open. Sometime after that, Pokekai (poke bowls and poke burgers), the Yard's newest vendor, will open, as will a new location for Paletas Morelia.
The new space will also serve as home to Barbakoa by Finka, a full-service restaurant from chef Eileen Andrade that's slated to open in the fall.
"Housing Barbakoa by Finka at the Doral Yard, specifically, is so thrilling to me," Heiman tells New Times. "What Eileen has accomplished with Finka and later, Amelia's 1931, is simply awe-inspiring. She's a true innovator and trailblazer for our city. She has created thriving restaurants for her local community and brought people from all over Miami to a part of West Kendall they would not have visited otherwise because of her magical combination of food, vibe, and hospitality."
When complete, the two zones will be connected by a passageway. Once fully activated, expect a variety of experiences, says Heiman, from full-service to fast-casual dining, not to mention indoor, air-conditioned seating, plenty of outdoor activities, more culinary collaborations, new vendors and food options, classes, and special events.
"This part of the project is very different than the Wynwood Yard in terms of its elevated design, but we like to think we've kept some of that scrappy, rustic Yard vibe people know and love," Heiman adds. "No matter what, we still intend to offer the all-welcoming atmosphere and the feeling of being home away from home throughout the Doral Yard."
Doral Yard. 8455 NW 53rd St., Suite 106, Doral; thedoralyard.com. Open Tuesday through Thursday and Sunday from noon to 10 p.m. and Friday and Saturday from noon to midnight.
Courtesy of Miami New Times