DOWNTOWN DORAL IS YOUR NEW DESTINATION FOR OUTDOOR EXPERIENCES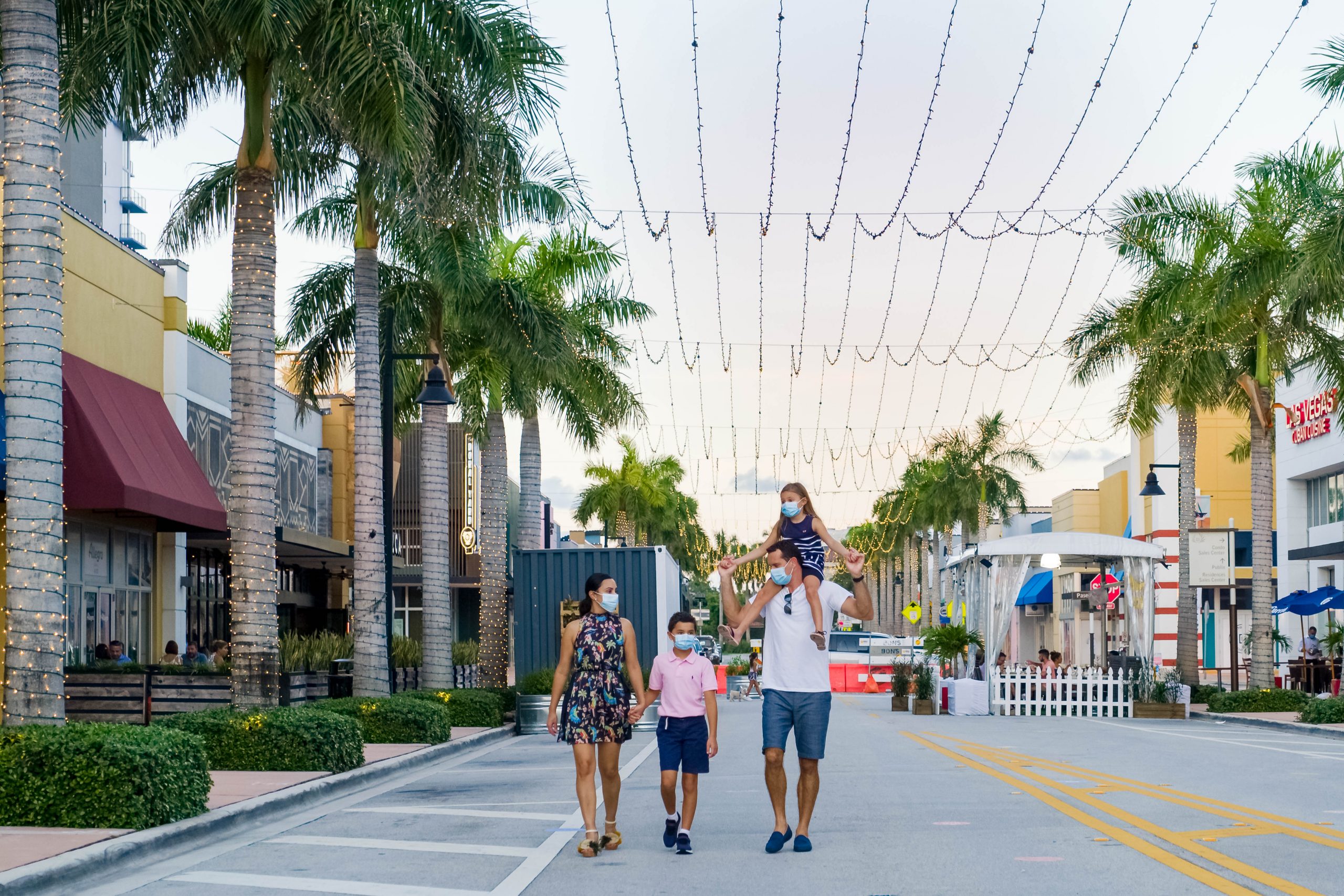 As a result of the pandemic, we've all had to make some significant changes to the way we experience culture in our backyard. Instead of limiting options, Downtown Doral has decided to take the very best aspects of its vibrant businesses and amplify them by transforming its Main Street into a pedestrian-only promenade for all to explore. While other areas have gotten creative by making street parking spaces outdoor dining areas, Downtown Doral has gone above and beyond to meet people where they need to be met most: out and about in their communities.
More than just outdoor seating, Downtown Doral has glittered the street with innovative structures–from shipping containers to clear cabanas–for an extra special dining al fresco atmosphere. You're now able to dig into delicious eats from all of your Doral favorites like Dragonfly Izakaya, Bulla Gastrobar, and Pisco y Nazca on and off the sidewalk in style. And this isn't just limited to busy weekends, the experience is alive 7 days a week–a perfect option for weeknight dates or after-work happy hours. And many of the local restaurants are offering plenty of specials, whether as part of Miami Spice or not.
Downtown Doral is working diligently on keeping the area as spacious and cautious as possible during the pandemic. They've partnered with Baptist Health South Florida in implementing their safety expertise to develop a detailed protocol to keep guests and team
members safe. Things like ample spacing, health signage for proper etiquette, enhanced use of touchless ordering systems, community surveys to monitor feelings of safety, and of course increased cleaning and disinfecting practices are all part of the norm on Main Street.
But sitting down for a flavorful feast isn't the only thing that you'll find along Main Street. As you peruse the promenade you'll find several kinds of experiences for every interest. The Spot Barbershop has parked its vintage truck along the walkway, and other nearby businesses will be extending onto the street. Visitors can also explore the electrifyingly neon dome installation by local artist Haiiileen for added wonder.
This creative new direction is a look into the near future for a revitalized Downtown Doral, which has been anxiously awaiting the opening of The Doral Yard among other great new businesses to the area. Miami favorites like Bunnie Cakes and Chef Antonio Bachour's award-winning pastries will also soon call the neighborhood home.
For more information on what to explore along Downtown Doral's Main Street, check it out here.
Courtsey of Culture Crusaders