Downtown Doral restaurants elevate holiday dining for George Balanchine's The Nutcracker® in the Park performances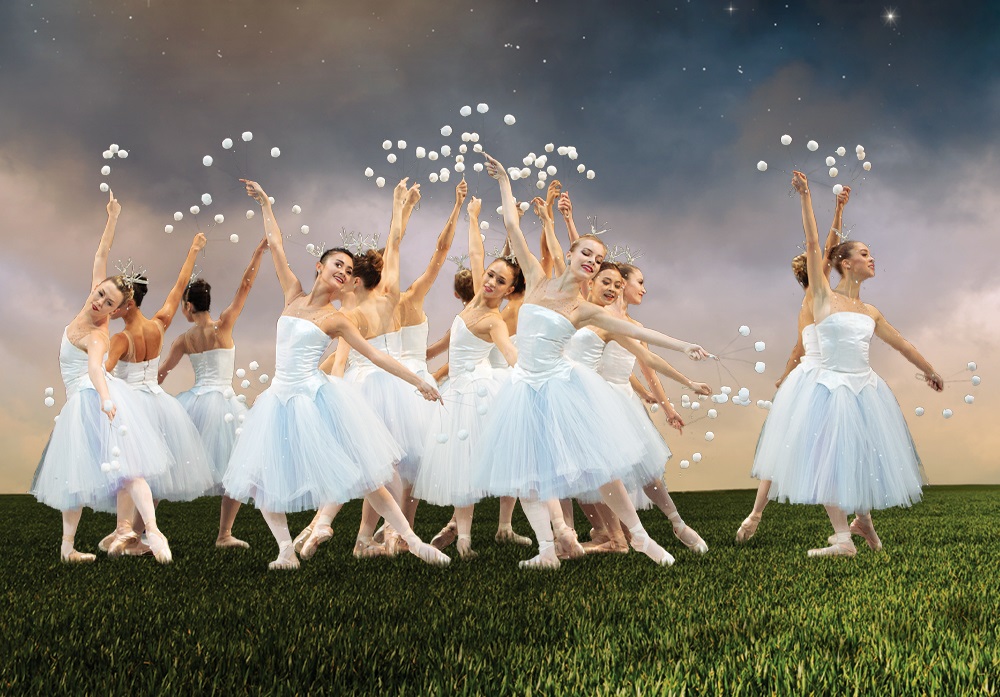 Bachour Restaurant & Bar, Dragonfly Izakaya & Fish Market and Bulla Gastrobar are among restaurants offering exclusive prix fixe dinner menus to patrons attending the Miami City Ballet's performances of George Balanchine's The Nutcracker® in the Park
Patrons to the Miami City Ballet's performances of George Balanchine's The Nutcracker® – the only live outdoor performance by a nationally recognized ballet company – will be able to enjoy pre- and post-performance dining from exclusive Nutcracker-inspired menus at Downtown Doral's renowned restaurants.
Presented by the Miami City Ballet (MCB), George Balanchine's The Nutcracker® in the Park, will be performed live before an audience in the outdoor splendor of Downtown Doral Park. The production opens December 18 with a special free performance in salute of first responders and essential workers, followed by 13 general audience performances from December 19 through December 31. The innovative multimedia production, which uses animation, projection, video and live sequences, prioritizes the health and safety of audiences, dancers, students and staff while delivering all the magic and joy of the beloved holiday classic. Performances will be presented in the park, in open air, with 153 socially distanced pods and all attendees will be required to wear masks.
The special, pre-and post-performance dining options will take place on the artful Main Street at Downtown Doral at physically distanced tables, both inside and outside. Participating restaurants and offerings include:
Bachour Restaurant & Bar: 3-course dinner for $38 per person; 5 – 7 p.m.; includes a glass of Zonin Prosecco
Bulla Gastro Bar: 3-course dinner for $39 pp; includes sangria or Moscow mule
Dragonfly Izakaya & Fish Market: 3-course dinner for $48 per person
Gusto Ristobar: pasta sampler (five pasta dishes) for $50 per person
Las Vegas Cuban Cuisine: 3-course dinner for $25.95 per person
Pisco Y Nazca Ceviche Gastrobar: 3-course dinner for $39 per person; includes any Pisco Sour cocktail
The Doral Yard: preshow meal for four people ranging from $54 – $58 at Della Bowls, YIP or Un Pollo
"At Downtown Doral, we have been getting creative and reimagining dining and entertainment formats to keep visitors coming back for more in a completely safe and convenient way," said Ana-Marie Codina Barlick, CEO of Codina Partners, the developers of Downtown Doral. "The Codina family have been supporters of the Miami City Ballet for many years, so to be able to marry the magic of the Nutcracker with our outstanding dining options at Downtown Doral is a true dream come true."
For Theater Dinner Reservations
Please contact the restaurants directly for reservations and for more information on the prix fixe menu options. Click here for a full list of restaurant offerings at Downtown Doral with those offering the Nutcracker prix fixe menus having a nutcracker icon on the listing.
For Tickets to George Balanchine's The Nutcracker® in the Park
Opening performance on December 18 for essential workers is free, but tickets are required due to limited capacity. To claim free tickets, sign up to receive an email to be notified when tickets will be released. Limited to one pod per household with qualifying professional identification as an essential, front-line worker.
Tickets for the general public are currently available for purchase at miamicityballet.org or by calling the Miami City Ballet Customer Relations at 305.929.7010, Monday – Friday 9 a.m. – 5 p.m. All tickets are sold as pods and cost $120 – $285, depending on section and date. Each socially distanced pod is a section of lawn that holds a maximum of 4 people. Guests may select a Chair pod or a Blanket pod. In chair sections, chairs will be provided. In blanket sections, guests must bring their own blankets to sit on. All tickets include free parking.
The Nutcracker in Downtown Doral Park is made possible by generous partnership and support from the Codina Family, Downtown Doral, the City of Doral and Baptist Health South Florida.
Downtown Doral Park is located at 8395 NW 53rd Street, Doral, Florida 33166, conveniently located in the heart of Miami-Dade and within easy access to the Dolphin and Palmetto Expressways and Florida's Turnpike.
George Balanchine's The Nutcracker® in the Park Schedule
Gates open one hour prior to performance time
* Friday, December 18: 7:30 p.m.
Exclusive Performance for first responders and essential workers only (free but ticketed performance)
General Public Performances:
Saturday, December 19: 4 p.m. & 8 p.m.
Sunday, December 20: 4 p.m. & 8 p.m.
Tuesday, December 22: 7:30 p.m.
Wednesday, December 23: 7:30 p.m.
Thursday, December 24: 3:30 p.m.
Saturday, December 26: 4 p.m. & 8 p.m.
Sunday, December 27: 4 p.m. & 8 p.m.
Wednesday, December 30: 7:30 p.m.
Thursday, December 31: 4 p.m.
** Rain Date: Tuesday, December 29,7:30 p.m.