Ron DeSantis Announces Reopening Plans for Miami-Dade in Downtown Doral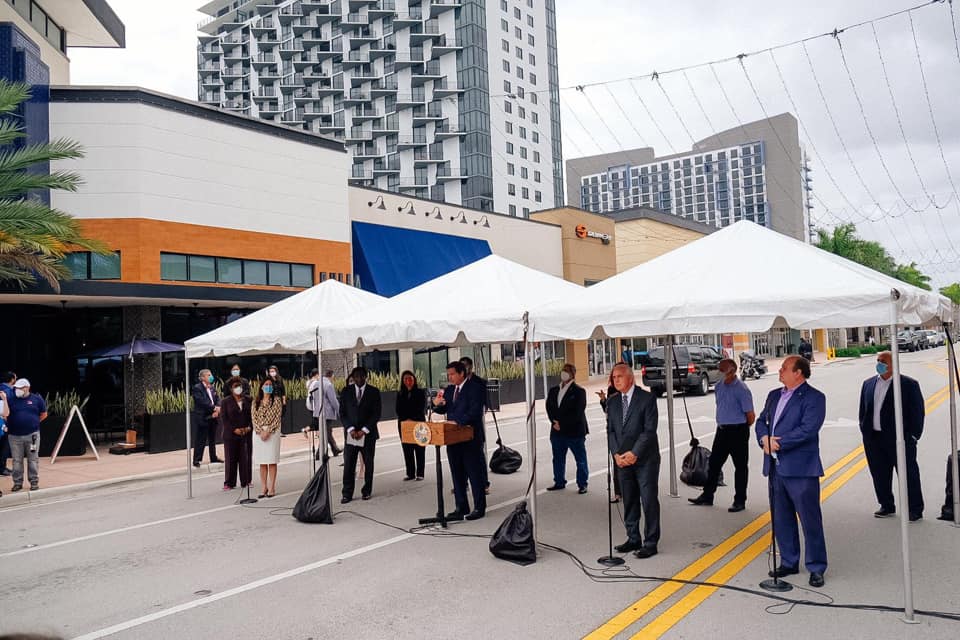 The news we've all been waiting for is finally here! Florida Governor Ron DeSantis held a COVID-19 press briefing Thursday afternoon in Downtown Doral, at which time he announced businesses in Miami-Dade and Broward counties are now reopening as part of Phase 1. 
That means your favorite Downtown Doral restaurants, shops, hair salons, and more are ready to reopen while adhering to safety protocols. Our service retailers are by appointment only, our eateries have reduced capacity and increased cleaning services, and stores have adjusted for social distancing. We're excited to welcome back our foodies and fashionistas to Downtown Doral after following Ron DeSantis' stay-at-home orders since March. 
The wellness and safety of our patrons, community, tenants, and employees are always top priority. To further our commitment to your safety, we are implementing the CodinaCares signature program–a series of enhanced safety measures. 
The CodinaCares signature program includes:
24/7 security will be policing the retail and office properties

All property employees have been provided with protective face coverings

New signage has been installed throughout the property reinforcing social distancing and safety procedures

Floor decals provide safe distance guidance

Touchscreen digital directories are being changed to static

New hand sanitizer stations are being installed in high-traffic common areas
Downtown Doral is closely monitoring COVID-19 and will continue to abide by regulations set in place by Ron DeSantis and government officials. 
As we all work to move towards the "new normal",  make sure you are following us on social media for our latest updates – @downtowndorallife