Student at DDCUS Awarded Full-Tuition Posse Scholarship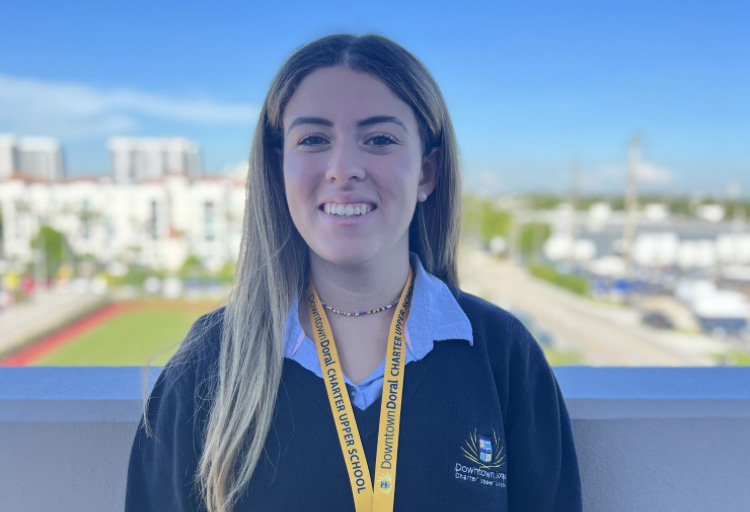 As Downtown Doral Charter Upper School looks to graduate its first senior class in 2023, the college applications are out and their first scholarship award has been received. Lucy Gonzalez has been awarded a full-tuition scholarship by the Posse Foundation.
The Posse Foundation at its core believes that students have the ability to accomplish more within small, diverse groups. This ideology is becoming increasingly important as the diversity and makeup of our society changes. The United States is becoming more diverse, and with that diversity comes varying points of view that, when put together, can help produce better solutions for the problems of the future.
Lucy has been awarded the Posse Scholarship, and will be attending Syracuse University in New York State where she will be learning from world-class scholars. Lucy, and other students like her will be learning how to become the change-makers of the future.
The goal of the program is to expand the pool from which top colleges select outstanding young leaders, help colleges build more interactive and inclusive campus environments, and help scholarship awardees see their college studies through to the granting of their degree.
Speak to anyone who knows Lucy well, and they will tell you that Lucy was destined to attain such an achievement. She has been described by many as intelligent, determined, and passionate—all of which are qualities that form a recipe for future success. She has given back to her community in many ways, including serving as an after school care leader, assistant camp counselor, and more. She is the first in her family to receive a full-tuition scholarship and has been an inspiration to many. Lucy's mother, Mrs. Gonzalez, is a teacher at Downtown Doral Charter Elementary School. Both her and Lucy's father understand the importance of a solid education, but also that instilling the proper values and drive in your children is the best way to set them up for success—and Lucy is well on her way to building a successful life and career.
Downtown Doral and both Downtown Doral Charter Schools are proud of Lucy's accomplishments and cannot wait to see her as she reaches ever higher heights.
Congratulations, Lucy!