Students At DDCUS In Top 300 at Junior Innovators Challenge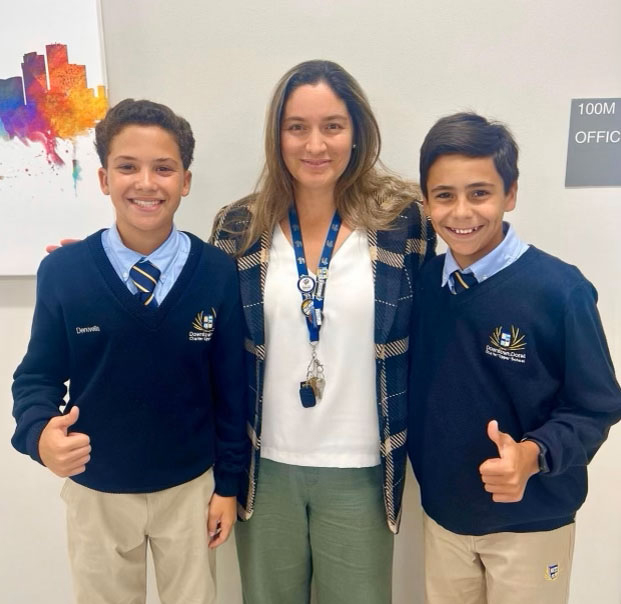 Who better to solve the challenges we face in the future than those who will inherit them? And that is exactly what two students at Downtown Doral Charter Upper School set out to do. Pablo Mascaro and Mauro Denovellis, both in seventh grade, took part in Thermo Fisher's Scientific Junior Innovators challenge, a competition that encourages students to devise solutions to 21st century issues. Many of these issues range from building climate resilience, resource management, and a host of other topics.
Pablo and Mauro sought out to solve our ability to ensure a nearly limitless supply of one of earth's most precious resources—water. Most of our water we use here in South Florida and around the country is extracted from reservoirs, underground aquifers, mountain streams, springs, and more. The issue with this resource is that naturally replenishing them takes far longer than our current rate of consumption. This means that over time, some of these resources may dry up, and we will have to look for alternative sources. Then came Pablo and Mauro with an ingenious solution.
In South Florida, water is all around us. We're known for our often hot, and certainly humid weather. So what's the potential solution to ensuring we have enough water for future generations? Extract it from the air! Pablo and Mauro invented a device that uses a fine mesh to capture rainwater, and even morning dew. The weight of the water allows it to flow along the mesh and into a funnel that carries it into a reservoir where it can be collected and then used.
"We are so incredibly proud of Pablo Mascaro and Mauro Denovellis for their vision and ingenuity in solving this very real problem that we will face in the future," said Ms. Rebeca Martinez who is a seventh grade teacher at Downtown Doral Charter Upper School. "At Downtown Doral Charter Upper School we teach our students to see challenges as opportunities for learning and advancement, and that is exactly what these two students did."
Thermo Fisher, a leading supplier of analytical instruments and a host of laboratory tools and materials, puts on the Junior Innovators Challenge each year, which is hosted by the Society for Science. Students across 49 states within the United States submit their projects for consideration, and out of all the submissions throughout the country, Pablo Mascaro and Mauro Denovellis ranked within the top 300 projects—ranking them among the top junior innovators in the entire challenge.
The Junior Innovators Challenge was designed to build upon the STEM program within schools, which focuses on the key core subjects of science, technology, engineering and math. Downtown Doral Charter Schools are known for their strong embrace of the STEM program. Recently, Downtown Doral Charter Schools received the prestigious COGNIA STEM Accreditation, which exemplifies the students' amazing success understanding the principles of the program and applying it to their studies.
Downtown Doral is immensely proud of Pablo Mascaro and Mauro Denovellis. As a forward-thinking community seeking to redefine how we live, work, play and learn, these two students have embraced the community's core philosophy and mission, and are doing their part to ensure that our community and countless others will continue to thrive in the future.
For more information on Downtown Doral Charter Schools, visit DDCUS.org.