Tabacon Cigar Lounge Opens In Downtown Doral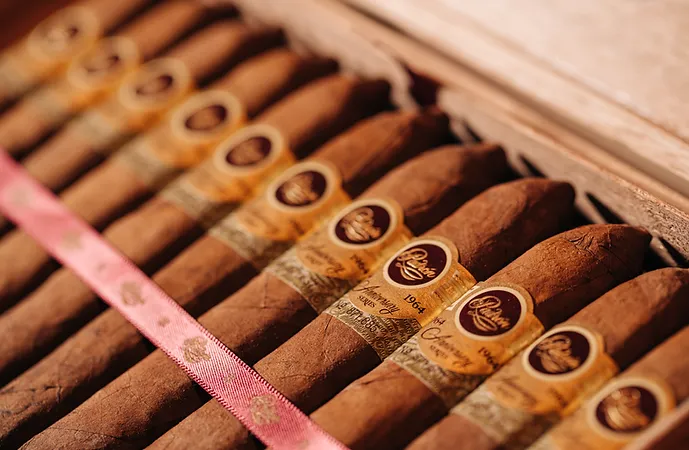 For those who are self-proclaimed aficionados of smoking cigars, you now have a new place in Downtown Doral to meet other like-minded people and enjoy fine cigars and spirits in a trendy setting.
With an interior that is as exquisitely appointed as it is stunning, Tabacon Lounge immerses you in a modern cigar-smoking experience whose style is rooted in the rich and visually-inspiring Great Gatsby-era design. From custom made leather lounge chairs imported from London, England that can be found throughout the member's lounge, to the dramatic backlit Onyx wall behind the main bar, the interior offers a unique experience unlike any other lounge in the region.
One of three focal points within the lounge, the Walk-In Humidor is a cigar-smoker's paradise. Outfitted entirely in Cedarwood, the 300+ square foot humidor is designed to maintain optimal temperature and humidity—helping to keep the cigars perfectly preserved. For the true aficionado, lockers that are connected to the Walk-In Humidor are available in three different sizes:
Tier 1 – $1,200/Year + Tax
Tier 2 – $2,400/Year + Tax
Tier 3 – $7,500/Year + Tax
Tier 1 lockers are the size of a small drawer, while Tier 2 lockers are three times the size of a Tier 1 and Tier 3 lockers are four times the size of a Tier 2. Whatever size collection you amass, Tabacon Lounge has a locker that can accommodate your needs.
The final two focal points within the lounge are the two bars. The Main Bar is manned by world-class mixologists and offers all of the modern spirits you've come to enjoy. Towards the back of the lounge is the Members Bar, where members of Tabacon Lounge have access to ultra-premium, top-shelf liquors such as a Macallan 25, Clase Azul Tequila—Dia De Los Muertos Edition, Johnnie Walker Blue Label, Macallan Rare Cask, Remmy Martin VSOP, and Don Julio 1942 to name a few. Members can partake in as little as a single-ounce pour of any of these ultra-fine spirits at members-only prices.
Tabacon Lounge's other unique attribute is its tall ceilings, which create the perfect environment for smoking cigars indoors. Smoke is drawn upward where the state-of-the-art filtration and extraction system scrubs the smoke and outputs pure and filtrated air back into the lounge.
Tabacon adds to Downtown Doral's evening and late-night venues. They are open Sunday, Monday and Tuesday from 2PM to 10PM, Wednesday and Thursdays from 2PM to midnight, and Fridays and Saturdays from 2PM to 1AM.
For more information, visit TabaconLounge.com, or you are welcome to visit the Lounge during their business hours to immerse yourself in the experience, take a tour, and explore membership options. Tabacon Lounge is located at 5241 NW 87th Avenue, Suite D109, Doral, FL 33178.
Must be 21 years of age or older to be admitted into the lounge.