Winter brings new developments to Downtown Doral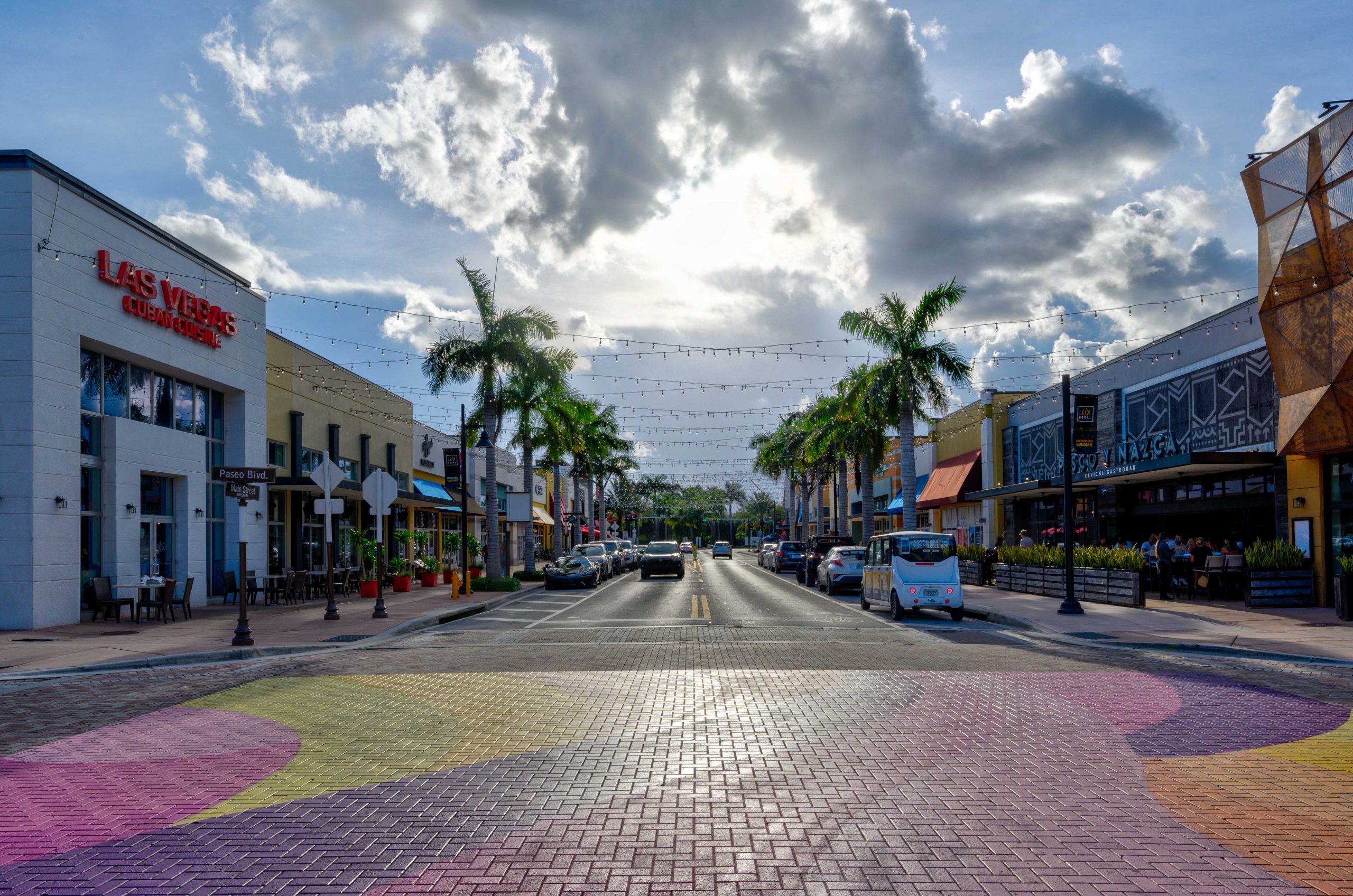 This winter Downtown Doral is bustling with construction throughout the community, further enhancing the already vibrant neighborhood. With an update to the retail area, a new residential tower, and an arts center in the works, Downtown Doral continues to be one of Miami's most dynamic, family-friendly, and engaging locales.
Retail updates for next-level shopping and dining
Something innovative is brewing right at Downtown Doral's iconic main entrance on NW 87th Ave. and NW 53rd St. marked by the 30-foot-tall, red paint steel John Henry sculptures. During the construction of our new retail feature, patrons on the south side where Dragonfly Izakaya & Fish Market sits, will need to park in the P2 garage just east or in the parking lot south of it. As enhancements are underway, eateries and conveniences will remain open, including Giardino Gourmet Salads, AT&T Store, First American Bank, and OXXO Care Cleaners. On the north side where Bulla Gastrobar sits, parking is available right off NW 87th Ave with more parking conveniently located in the P1 garage east of the building and the parking lot just north of it.
Additional luxury rentals in the heart of the action
Paseo Tower, Downtown Doral's fifth, luxury residential tower is rising at 5225 NW 85th Ave. just east of 5250 Park. The tower is the second building in Downtown Doral's Distinctive Apartment Collection. Paseo Tower will share the street block and amenities with Tower I of the Paseo Tower group, currently known as 5250 Park. Residents at Paseo Tower will have access to a resort-style pool, a state-of-the-art gym overlooking Downtown Doral Charter Elementary School, a theatre room, an event room with spacing for catering, a meeting room, a dog spa, a dog park, among others. When complete, the tower will feature 20 stories with 228 units of one-, two- and three-bedroom residences. The best part of this new residential tower is its proximity to the thriving dining and entertainment scene in Downtown Doral, which continues to attract customers from throughout South Florida and beyond.
A pavilion for Doral's art and culture
Just steps from Paseo Tower, the City of Doral is busy at work on the Doral Cultural Center that is located between NW 53rd Street and NW 53rd Terrace, adjacent to the City of Doral Government Center. This facility will serve to celebrate the variety of cultures, arts, and experiences that make Doral so unique. Key features include large art gallery space visible from both inside and outside the building, a flexible multi-purpose room, various outdoor courtyards, catering area, dedicated vehicular drop-off area, accessible rooftop plaza, amphitheater green roof terrace, additional multi-purpose green space, public art, public garden spaces, and supplementary seating areas. More information here.
To stay up to date on all things Downtown Doral, be sure to sign up for our newsletter here and follow @downtowndoral on Facebook and Twitter and @downtowndorallife on Instagram.